Why choose Ugo 2L Drainage Bags?
The Ugo 2L Drainage Bag range is a complete range of drainage bags designed to meet all patients' needs, in any clinical environment. All bags in the range have short, easy-to-remember names and numbers to help clinicians and patients when placing orders.
All Ugo 2L Drainage bags also include:
Soft, kink resistant inlet tubing, ensuring leak-free continuous drainage
Non-return valve to prevent urine going back up the drainage pipe
Reinforced eyelets to ensure level hanging on the Ugo Stand with Dignity or Ugo Hanger
We offer the Ugo 2L Drainage Bags in a sterile or non-sterile option.
To receive samples of Ugo 2L Drainage Bags and other products within the Ugo Urology range, please complete the short form below and we'll post samples out to you.
The Ugo 11, Ugo 12 and Ugo 13 sterile 2L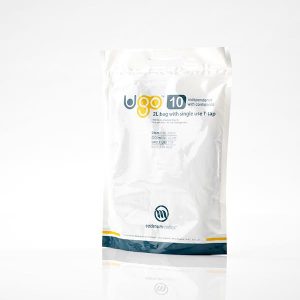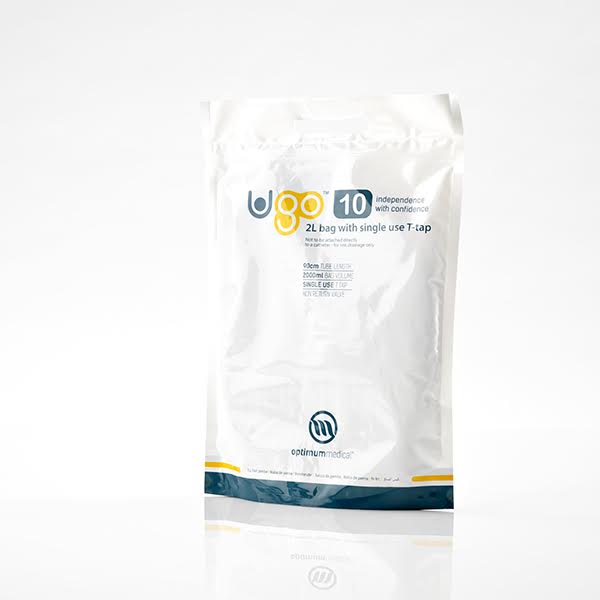 Drainage Bags are individually wrapped, with clear instructions for use on each individual pouch. The Ugo 9 and Ugo 10 are provided in unique resealable bags. The resealable bags are waterproof and wipeable, helping patients to maintain high levels of cleanliness in their own home. They're also designed to free stand, helping to save storage space in patient's home, where storage space may be limited due to supplies of many continence products.
Each Ugo 2L Drainage bag is provided with a helpful patient and carer user guide detailing how to use and care for the products when a healthcare professional is not around.
A choice of support
All Ugo 2L Drainage Bags are designed to be used with our support options.
The Ugo Stand with Dignity can be used around the home, either free standing, secured under the divan of a bed or hooked onto the arm of a chair or wheelchair. The Ugo Stand with Dignity benefits from a dignity cover to hide the urine bag from view – it's ideally suited to patients who want additional discretion when using a Ugo 2L Drainage Bag. An observation window allows inspection of the bag and contents as it fills.
We also offer the Ugo Hanger to provide effective support for the Ugo 2L Drainage Bag. It can be used in many convenient positions around the home; securely hooking onto the arm of a chair or wheelchair.
"The Ugo 2L Drainage Bags are very good. They have a large capacity for overnight drainage, there's no kinking in the tubes and they're easy to connect. They are very secure once connected and the non-return valve to prevent urine going back up the drainage tube is a very good idea. A lot of other products I have tried don't have this built in which can result in accidents." Kevin Taylor, Patient
Email enquiries@optimummedical.co.uk for more information about Ugo 2L Drainage Bags or to request a free sample.