OptiLube Active CHG Free
To give clinicians more choice, Optimum Medical has introduced OptiLube Active CHG Free to their range of lubricating gels for catheterisation procedures. It's ideally suited to patients with contraindications to Chlorhexidine.
Chlorhexidine can be responsible for hypersensitivity reactions in some patients so we developed OptiLube Active CHG Free as an alternative option to clinicians, focused on improving patient outcomes. It maintains the added benefits of the local anaesthetic (Lidocaine 2%).
Provided in 6ml and 11ml pre-filled syringes, presented in rupture resistant packaging, OptiLube Active CHG Free enables precise, controlled application.
OptiLube Active CHG Free offers the following features and benefits:
Syringe falls easily from its protective blister packaging to achieve an Aseptic Non Touch Technique

Manufacturing, expiry dates, and LOT numbers, on each syringes tear off strip are easy to retain for accurate recording

Ergonomic design of the tip eliminates the risk of suction or damage to tissue

Measuring facility on side of syringe to enable precise application of a controlled volume of jelly

Latex-free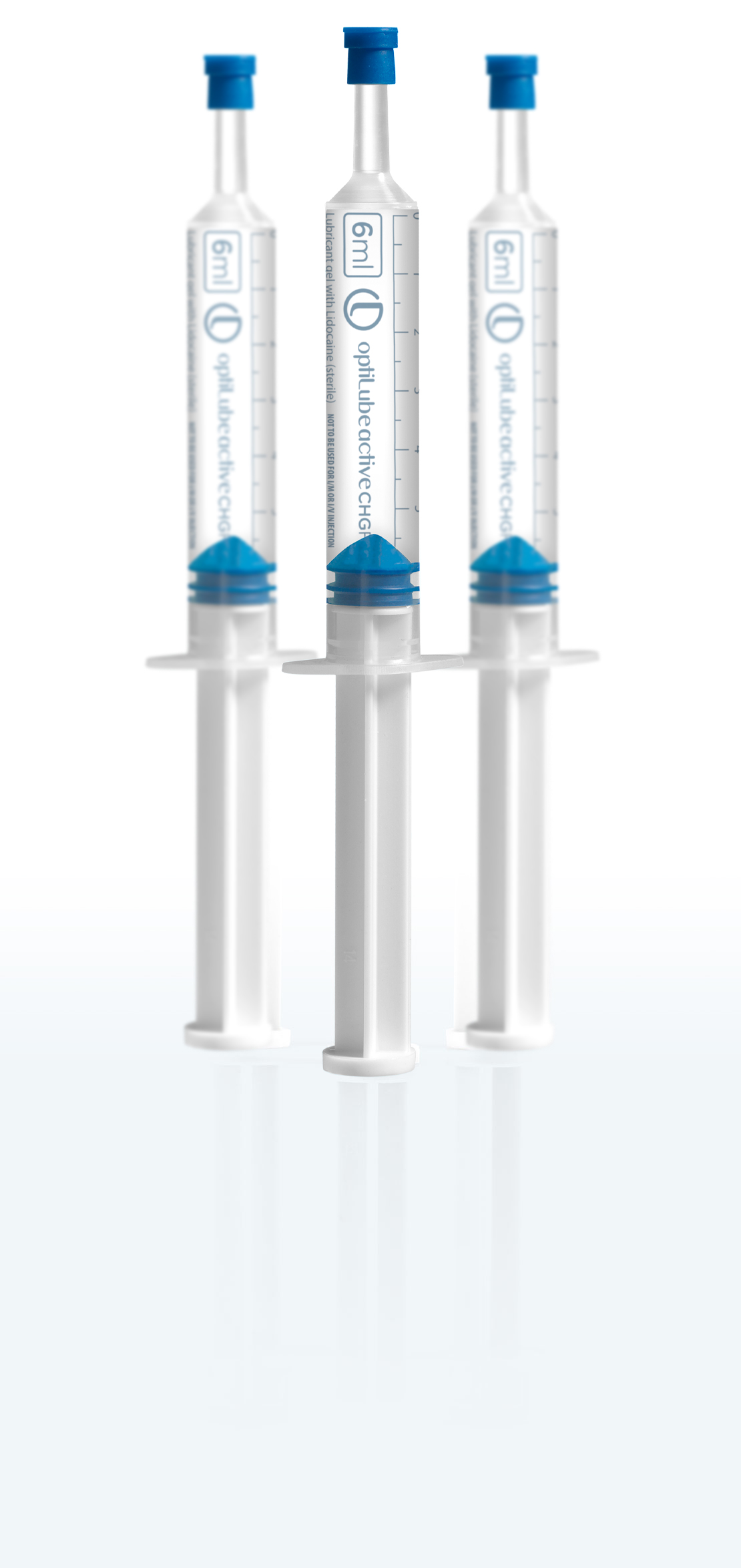 OptiLube Active CHG Free contains anaesthetic (Lidocaine 2%). It's ideally suited to patients with contraindications to Chlorhexidine Gluconate.

| Pr Name | OptiLube Active CHG Free 6ml pre-filled syringe | OptiLube Active CHG Free 11ml pre-filled syringe |
| --- | --- | --- |
| Size | 6ml | 11ml |
| Pr Code | 1167 | 1168 |
| PIP Code | 404-0663 | 404-0671 |
| NPC Code | FST 887 | FST 888 |
| Inner Pack | Pack of 10 | Pack of 10 |
| Outer Pack | Case of 200 | Case of 200 |
What people have to say about OptiLube Active CHG Free
"After years of having to forewarn patients of the stinging feeling to come, I am able to catheterise patients comfortably with OptiLube Active CHG Free. I have had no negative feedback at all from the patients I have used it with and no reports of infection either."

Elizabeth Ketcher

Croydon University Hospital

"After using OptiLube Active CHG Free, I was very happy with the product. I didn't experience any stinging."

Nigel Moody - Patient

Southampton

"Thank you for finally providing a gel without Chlorhexidine."

Dahlia Lewis - CNS Bladder Dysfunction

Lancaster Suite, Croydon University Hospital