Ugo 4 Weeks
Discreet and compact, the Ugo 4 Weeks is a 4-week urinary drainage and management system.
It's available in four variations, depending on the patient's choice of fabric backed leg bag.
It contains:
4 x fabric backed Ugo Leg Bags (1C/2C/3C/4C)*

28 x Ugo 10 2L Bags with single use T tap

Ugo Hanger

4 x pairs of Ugo Fix Leg Bag Straps

4 x Ugo Fix Gentle (catheter clips)

Patient and carer user guides
*Please visit the Ugo Leg Bag product page to find out more.
One Box
With protective and lightweight packaging, the Ugo 4 Weeks is easy to store with a range of products provided in one box.
So it reduces stockpiling in patient homes and waste.
One Code
The Ugo 4 Weeks ensures an organised supply with just one code per box, making re-ordering simple.
One Prescription
It's easy and efficient to prescribe, saving time for everyone involved.
Each product contained inside the Ugo 4 Weeks can also be prescribed separately as individual items if necessary.
Found under 'Night Drainage Bags' on Part IXB – Incontinence Appliances in the Drug Tariff.
One Month
Helping clinicians and patients to manage their care, the Ugo 4 Weeks effectively prevents product shortages and improves efficiency. It also improves clarity on products required and managing a link drainage system effectively.
Full instructions for use are included with all our products. You can download and view the Ugo 4 Weeks IFU by clicking the button above. Last revision date: September 2019.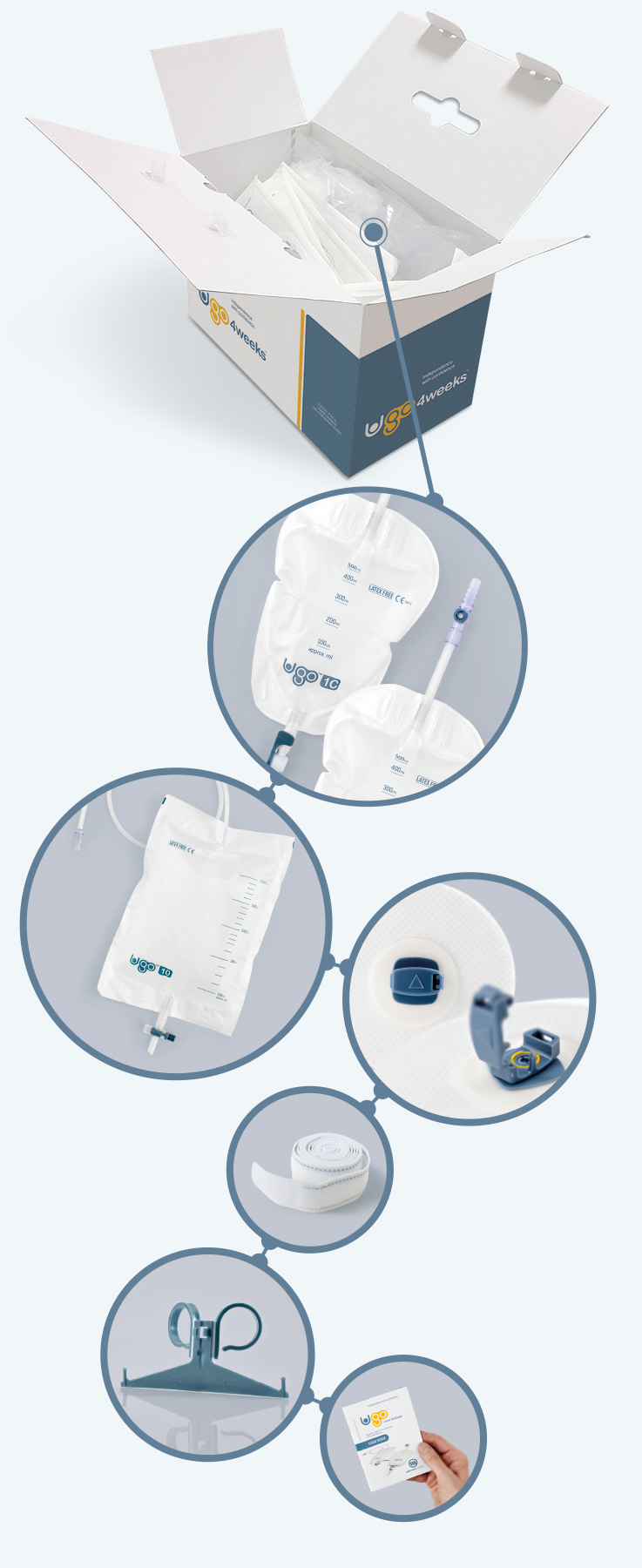 Ordering information
Found under 'Night Drainage Bags' on Part IXB – Incontinence Appliances in the Drug Tariff
| Code | PIP Code | Product Name | Leg Bag Description |
| --- | --- | --- | --- |
| 3014 | 403-8824 | Ugo 4 Weeks 1C | 500ml, Short Tube, Lever Tap |
| 3015 | 403-8840 | Ugo 4 Weeks 2C | 500ml, Long Tube, Lever Tap |
| 3016 | 403-8865 | Ugo 4 Weeks 3C | 500ml, Short Tube, T Tap |
| 3017 | 403-8873 | Ugo 4 Weeks 4C | 500ml, Long Tube, T Tap |