Vue Ultrasound Gel
Vue Ultrasound Gel is for the transmission of ultrasonic waves in medical ultrasound procedures, providing optimal transmission. 
As specialists in gels for clinical applications, we've formulated Vue Ultrasound Gel to offer the ideal viscosity for a wide variety of procedures. Working with our network of clinical contacts, and responding to their expert feedback, we've developed this product to be as effective and easy to use as possible.
Why Vue Ultrasound Gel?
Offers superb 'standoff' for superficial scanning

Water-soluble and non-sticky, ensuring maximum patient comfort

Doesn't stain or damage skin, clothing or transducers

Contains no salt

Excellent viscosity

Available in a range of sizes to suit different situations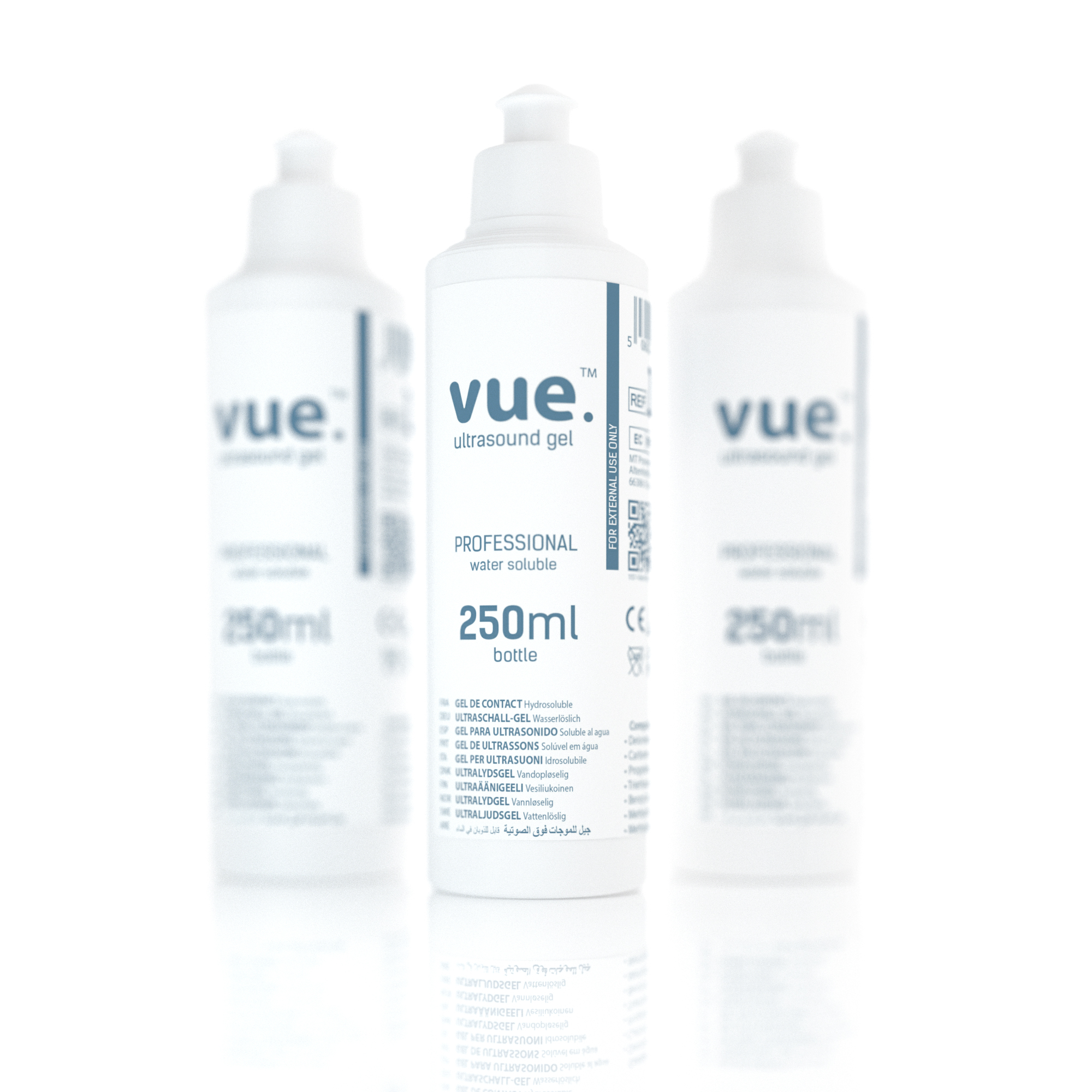 Ordering information
Vue Ultrasound Gel is available in a range of formats and sizes. Choose a format below to see the relevant ordering information.
Vue Ultrasound Gel sachet
Vue Ultrasound Gel bottle
Vue Ultrasound Gel container
Sterile, individually wrapped sachets, designed to prevent cross-contamination during procedures, in particular when scanning close to an open wound, trans-vaginally or in biopsies.

| Pr Name | Vue Ultrasound Gel 20ml sachet |
| --- | --- |
| Size | 20ml |
| Pr Code | 1156 |
| NPC Code | FTM 338 |
| Inner Pack | Box of 30 |
| Outer Pack | Case of 240 |

Single-use bottle promotes infection control procedures, while letting you dispense large amounts of gel easily onto the patient's skin.

| Pr Name | Vue Ultrasound Gel 250ml bottle |
| --- | --- |
| Size | 250ml |
| Pr Code | 1157 |
| NPC Code | FTM 302 |
| Inner Pack | N/A |
| Outer Pack | Case of 40 |

Flexible plastic container for multiple use, designed to ensure you can dispense all the gel with no wastage.

| Pr Name | Vue Ultrasound Gel - 5l soft container |
| --- | --- |
| Size | 5 litres |
| Pr Code | 1158S |
| NPC Code | N/A |
| Inner Pack | N/A |
| Outer Pack | Case of 4 |