At Optimum Medical we're guided by the clinicians who use our products, and it's this demand that has led us to developing our range of catheterisation jellies; designed to offer clinicians a choice while helping to improve patient outcomes.
What is catheterisation?
Catheterisation is a procedure carried out to drain urine by inserting a flexible tube called a catheter into the bladder. The catheter is inserted either through the urethra (urethral catheterisation) or through an incision in the lower abdomen (suprapubic catheterisation).
The insertion of a catheter can be painful for the patient, which is why the clinician will use catheterisation jelly, a lubricating gel specifically developed to aid the insertion of the catheter, minimising pain and reducing the risk of infection and trauma.
Why do we offer a range of catheterisation gels?
Because all patients are different, we offer a range of catheterisation jellies. OptiLube sterile lubricating jelly, OptiLube Active and OptiLube Active CHG Free make up our range of catheterisation gels, ensuring there is a catheterisation gel suitable for all patients or clinical requirements.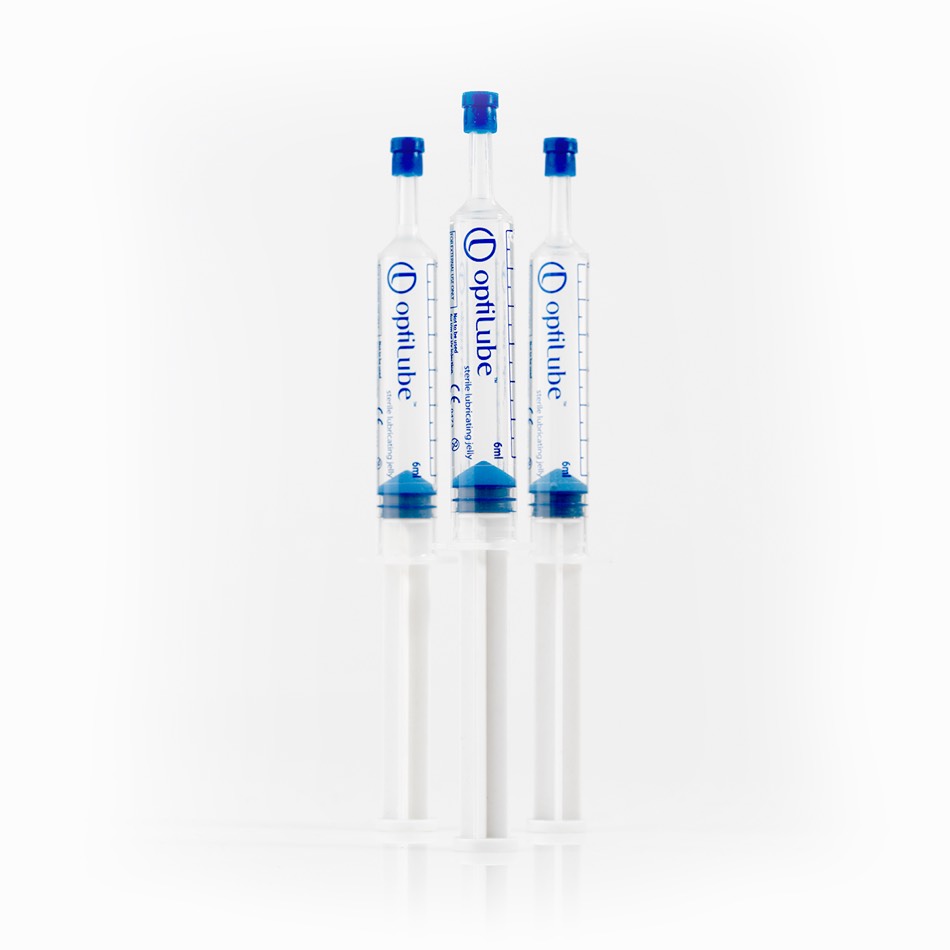 OptiLube Active contains active ingredients 2% Lidocaine and 0.05% Chlorhexidine Gluconate offering optimal lubrication with the added benefit of local anaesthetic and antiseptic, while OptiLube contains no active ingredient and is ideally suited for patients with sensitivities to the active ingredients contained in OptiLube Active.
The newest addition to our catheterisation jelly range is OptiLube Active CHG Free. OptiLube Active CHG Free contains the active ingredient 2% Lidocaine, helping to reduce pain during and after catheterisation, ideally suited for patients who display a sensitivity to chlorhexidine or in hospitals where chlorhexidine use for catheterisation is contraindicated.
All catheterisation gels in our range are supplied in a familiar syringe format, individually wrapped for minimal handling. We offer each of our catheterisation gels in a 6ml (female) and an 11ml (male) pre-filled syringe, ensuring the full length of the male or female urethra is coated in lubricant, making the passage of the catheter smoother and the patient more comfortable during and after the procedure.
Please email enquiries@optimummedical.co.uk if you would like to receive samples of any products in our catheterisation jelly range.