Fixation Devices
Our range of fixation devices are designed to offer catheter patients a choice, with a device to suit all patient specific requirements. The Ugo Fix Bag Belt is the newest addition to the Ugo Fix range and is designed to support the leg bag on the leg as it fills. All products in the Ugo Urology range complement each other and are designed to instil confidence, allowing patients to continue living an independent life after catheterisation.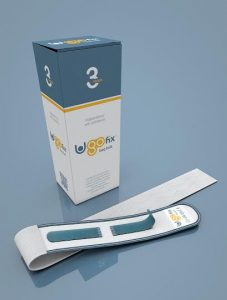 The Ugo Fix Bag Belt secures the Ugo Leg Bag comfortably on the leg through reinforced eyelets on the bag, supporting the weight of the leg bag and reducing tension on the bladder neck caused by the indwelling catheter. The Ugo Fix Bag Belt is fully adjustable and can be cut to size. The breathable fabric backing with silicone technology comfortably grips the skin and can be washed and reused (Ugo Laundry Bag available on request).
Why is fixation important?
By using a specifically designed fixation device to support the weight of the leg bag and the catheter tubing, unnecessary movement of the catheter within the urethra is reduced and tension on the bladder neck is limited.
A poorly fixated catheter can cause trauma to the bladder neck and the urethra, resulting in damage to the delicate tissue and increased the chance of infection.
It's estimated that a fifth of all infections acquired in UK hospitals involves the urinary tract and 80% of those are linked to urinary catheters, costing the NHS £99 million per year (NHS Institute for Innovation and Improvement).
Effective fixation of catheters and catheter leg bags reduces cost by focusing on prevention of infection, rather than treatment, and improves the quality of life for the patient living with a catheter.
Email enquiries@optimummedical.co.uk for more information about the Ugo Fix Bag Belt or to request a free sample.