Catheter Valve Guide
So, you've been given a catheter and sent home with drainage bags to use but you're finding them bulky or hard to manage with an active lifestyle. Other continence product users or your continence nurse may have mentioned about catheter valves to you, but what actually is a catheter valve? In this blog we'll explore more about what a catheter valve is, their benefits and how to manage one effectively.
A catheter valve is a small device which fits directly on to the end of an indwelling catheter and acts like a tap or switch to let urine out. Catheter valves can be used on both urethral and suprapubic catheters but will need to be regularly changed every 5-7 days.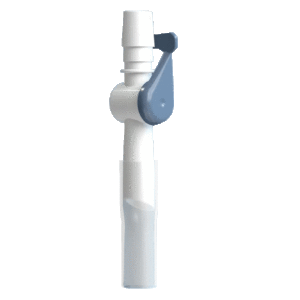 If you are currently using a 'lever' tap option on your drainage bag, then a catheter valve works in the same manner, just without the bag filling in between. Catheter valves are used instead of drainage bags to stop the urine from flowing out until the tap is 'switched', so your bladder stores the urine instead of a bag.  It's important to remember that a catheter valve isn't suitable for all catheter users, so speak with your doctor or continence nurse to check whether a catheter valve is suitable for you before trialling one.
The small, discreet design of catheter valves means they have a number of benefits when it comes to comfort and dignity for the user. Using a catheter valve means there is a reduced risk of trauma to your bladder and urinary system as there is no weight from carrying a drainage bag or tubes pulling down on the catheter. Use of a catheter valve can also help you keep your body's natural rhythm with urinating and maintains your bladder's muscle tone and capacity as the bladder is still in use and not made redundant by the use of a drainage bag.
Many users find catheter valves very simple to use and self-manage. If you have bladder sensation then your bladder will tell you when it is getting full and when it is time to turn the lever on your catheter valve and empty your bladder. However, if you experience problems with bladder sensation or you have a reduced bladder capacity then you may not be the ideal candidate to use a catheter valve, so consult with your doctor or continence nurse ahead of trialling one. Other implications such as poor hand dexterity which results in you being unable to open the lever on the catheter valve properly, or if you have very poor memory which means you are unable to remember to empty your bladder regularly may also mean that a catheter valve is not the best solution for you. Speak to your doctor or continence nurse as there may be other solutions which can help.
The Ugo Catheter Valve has been designed with the following range of features:
Safety lever to prevent accidental opening – giving the user extra reassurance.
Universal stepped connector – giving a secure fit and making the valve compatible with all catheter materials.
180° lever tap for easy single-handed operation.
Easy-open pouch packaging, enabling safe use in sterile areas.
Manufactured from high-grade, durable, medical PVC for up to seven-day use.
Ergonomic shaping with no sharp edges for ease of handling and reduced risk of skin trauma.
Soft silicone tubing for attaching to an overnight drainage bag or leg bag.
"I use the Ugo Catheter Valve with my suprapubic catheter. It grips extremely well, and doesn't slip like some other valves which I have tried." Christine, patient from London
The Ugo Fix Catheter Strap can be used to fixate the catheter tubing when using our Ugo Catheter Valve. This helps to prevent urethral friction, which can lead to pain, trauma and infection.
Using the Ugo Catheter Valve as part of a link drainage connection
There's no need to detach the Ugo Catheter Valve at night time. An effective, secure link drainage connection can be established by connecting the Ugo 2L Drainage Bag directly to the Ugo Catheter Valve via the silicone outlet tubing. Instructions on how to do this, as well as how to attach, care for and remove your catheter valve, can be found in the user guide which is provided in each box of Ugo Catheter Valves.
For individuals who are assessed as being unsuitable to use a catheter valve, we provide an extensive range of Ugo Leg Bags to suit every patient. Please click here to view the range available.