Attaching a night drainage bag
As urology specialists, we want to put our knowledge and expertise to good use by answering your urology-related questions. One of the questions we hear often is "How do I attach a night drainage bag to a catheter?"
Your healthcare professional is there to answer any questions you may have about your catheter and leg bag. Please seek guidance immediately from your healthcare professional if you have any concerns about your catheter or leg bag or you are feeling unwell. Your healthcare professional will make recommendations based on your specific requirements.
Step-by-step guide:
Wash and dry your hands (if a carer is doing this for you they must apply a clean pair of gloves after drying their hands).
Remove any straps or sleeve which are supporting your Ugo Leg Bag to your leg (if you are using the Ugo Fix Gentle (catheter clip) this can remain in place overnight as it will prevent your catheter pulling yet allow free drainage through the link drainage system).
Remove the protective cap from the Ugo 2L Drainage Bag stepped connector.
Insert the stepped connector from the Ugo 2L Drainage Bag into the soft silicone tubing on the Ugo Leg Bag (ensure an adequate seal).
Attach the Ugo 2L Drainage Bag to the Ugo Stand.
Open the lever tap or T tap valve on your Ugo Leg Bag to allow immediate and continuous drainage.
Wash and dry your hands.
Guidance on the steps above is also provided in the catheter night bag instructions, which are provided in every box of Ugo 2L Drainage Bags. For extra convenience, these instructions can also be downloaded here.
Catheter night bag stand
Did you know? Our Ugo Stand with Dignity (below) is available for everyone in the community using Ugo 2L Drainage Bags. This innovative night bag stand features a removable dignity cover, giving you the choice as to whether you'd prefer to have your night bag visible or not. By supporting the 2L bag, it also ensures the tap doesn't make contact with the floor, helping to reduce your risk of infection.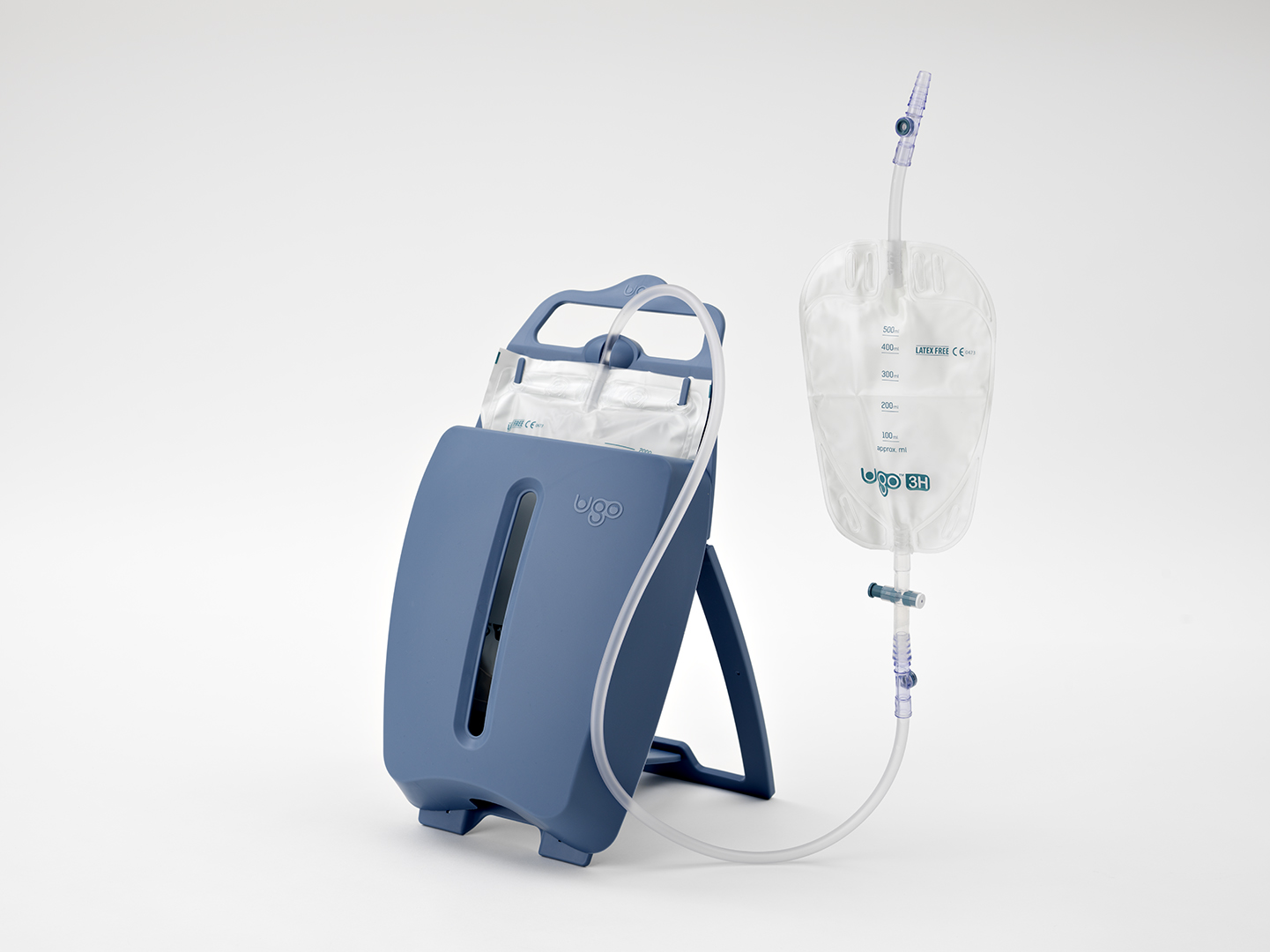 Want to sample the Ugo Urology range?
If you're not currently using the Ugo Urology range and would like to know more, you can request a free sample by completing the short form below:
Alternatively, you can call 0113 263 3849 to speak to one of our customer care advisors, or email enquiries@optimummedical.co.uk.