A fully equipped catheterisation kit supplied in one box. Supporting best practice aseptic catheterisation technique, The Ugo Box contains everything required for the insertion and removal of a urethral or suprapubic catheter in a community setting. The Ugo Box gives you, the clinician, the choice of catheter size, leg bag variation and catheterisation jelly, allowing you to select the best option for your patient. Available in 12 variations.
For suprapubic catheterisation procedures, we would recommend selecting a variation of The Ugo box that contains OptiLube catheterisation jelly. OptiLube Active CHG Free is not suitable for suprapubic catheterisation procedures.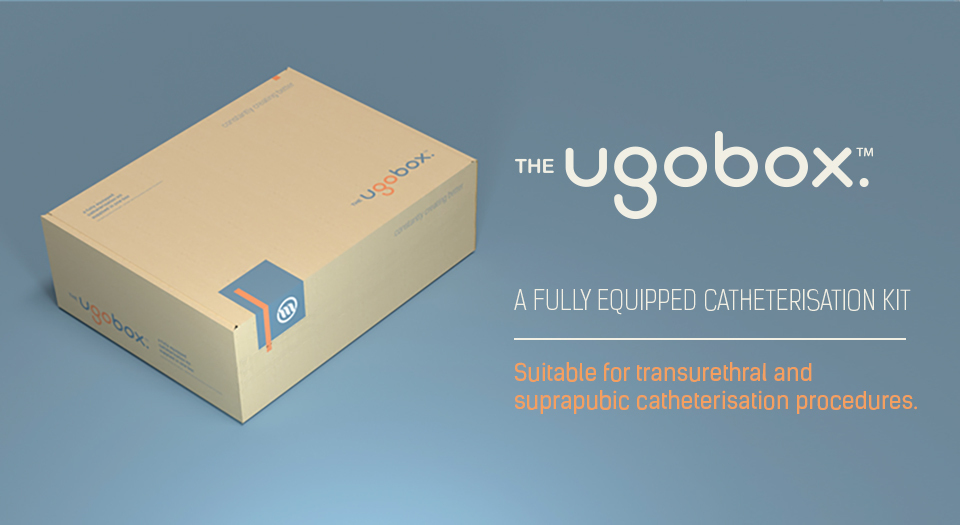 Catheterisation procedure packs reduce the incidence of CAUTI by 80%
Evidence suggests an average reduction in catheter associated urinary tract infection (CAUTI) of 80% when urinary catheterisation kits/sets are introduced.
According to the European Association of Urology Nurses (EAUN) the main benefits of using urinary catheterisation kits are:
The standardisation of the process: adherence to urinary catheter insertion recommendations.
The inclusion in the kit/set of pre-connected and sealed urinary catheter systems, the components of which are linked by seals, will ensure that the system remains closed at all times, eliminating the risk of the "human factor" and ensuring adherence to the recommendation.
Nursing staff efficiency: more quality time for patient care.
Reduction in CAUTI, reduction in the consumption of antibiotics and the costs associated with such consumption, and the prevention of antibiotic resistance.
Ref: INCREASING ADHERENCE TO CAUTI GUIDELINES: RECOMMENDATIONS FROM EXISTING EVIDENCE. [2021]
The benefits of using The Ugo Box:
The Ugo Box promotes:
IMPROVED PATIENT SAFETY by providing all essential equipment recommended to carry out the safe removal and/or insertion of a suprapubic or transurethral catheter, following best practice guidance.
COST SAVING by reducing time spent setting up for the procedure, allowing more time to be spent with the patient and reducing stockpiling of individual medical devices.
EFFICIENCY by providing all items in one convenient kit, reducing the risk of missing essential items and reducing time spend gathering items.
A more ENVIRONMENTALLY-FRIENDLY PRACTICE of catheterisation in the community by reducing packaging waste by providing all catheterisation essentials in one recyclable box and by reducing stockpiling of products.
Each Ugo Box contains:
Selecting the right product for your patient
The Ugo Box is available in 12 variations. To find out more about your options or to request a free sample, email enquiries@optimummedical.co.uk or give us a call on +44 (0) 845 643 5479.