The Ugo 4 Weeks. As indicated by the name, contains enough catheter supplies to last 4 weeks – all stored in a discreet, lightweight storage box. At Optimum Medical, we understand that catheter stock levels can be difficult to keep track of. We also understand the need for clinicians to be able to order new products in a way that is easy and efficient.
The Ugo 4 Weeks features one ordering code per box – streamlining the ordering process. We aim to accommodate patient preference by offering the Ugo 4 Weeks in four different versions – each one containing either a Ugo 1C, 2C, 3C or 4C leg bag. This gives the patient the choice to decide exactly which type of leg bag they'd prefer (i.e. lever tap, T tap, long tube, short tube).
By storing all catheter drainage and fixation devices together in the Ugo 4 Weeks box, it makes it easier for clinicians and patients to monitor stock levels. This means that the consequent orders can be placed in good time – reducing the chances of the patient being in a situation where they run out of product. The Ugo 4 Weeks can also help to generate cost savings by reducing the unnecessary reordering of stock.
What does each box contain?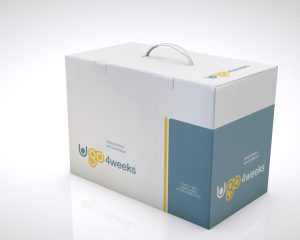 Each Ugo 4 Weeks contains the following products:
4 x fabric backed Ugo Leg Bags
28 x Ugo 10 2L Bags with single use T tap
1 x Ugo Hanger
4 x pairs of Ugo Fix Leg Bag Straps
4 x Ugo Fix Gentle catheter clips
Patient and Carer User Guides
To receive free samples of each product included in Ugo 4 Weeks, please complete the short form below:
Add on fixation
Patients who wish to use fixation products such as our Ugo Fix Catheter Strap and Ugo Fix Sleeve leg bag holder can order these items in addition to the Ugo 4 Weeks, in the size best suited to each individual.