FFP3 Face Masks
The FFP3 face masks from Optimum Medical provide superior levels of comfortable protection for individuals in high-risk environments. 
Our disposable FFP3 face masks are designed to be worn for longer periods of time with less discomfort for the wearer due to the cushion-fit lining and exhalation valve.
These disposable face masks are a single-use item and should only be used once in accordance with the manufacturers guidelines to ensure safety. Please note, the strap also contains latex.
Why choose our FFP3 Face Masks?
Our disposable FFP3 face masks are compliant with European guidelines EN 149:2001 and A1:2009. 

Each variation of the FFP3 face mask features an exhalation valve to reduce moisture and heat build-up.

Cushion-fit lining for added wearer comfort.

Four-point headband attachment for extra security and less risk of slipping.
Optimum Medical FFP3 face masks are available in four variations
Which is right for you?
Type A is a moulded-cup shape respirator, with an exhalation valve and a strong and rigid outer shell

Type B is a contoured mask, with moulded nose bridge and dual welded head straps

Type C is a horizontal folding shape, with invisible nose bridge and wide field of view

Type D is a classic folding and cup-shaped face mask, with lightweight design.
When it comes to PPE, we have you covered:
In addition to our FFP3 face masks, we also have OptiPro Aprons, OptiPro Face Shield, OptiPro Surgical Masks and OptiPro Particulate Respirators.
Our OptiPro range also includes:
OptiPro Universal Alcohol Wipes and OptiPro Hand Sanitiser, which is available in 60ml, 300ml, 500ml and 1000ml bottles. Both are 99.9% effective against germs.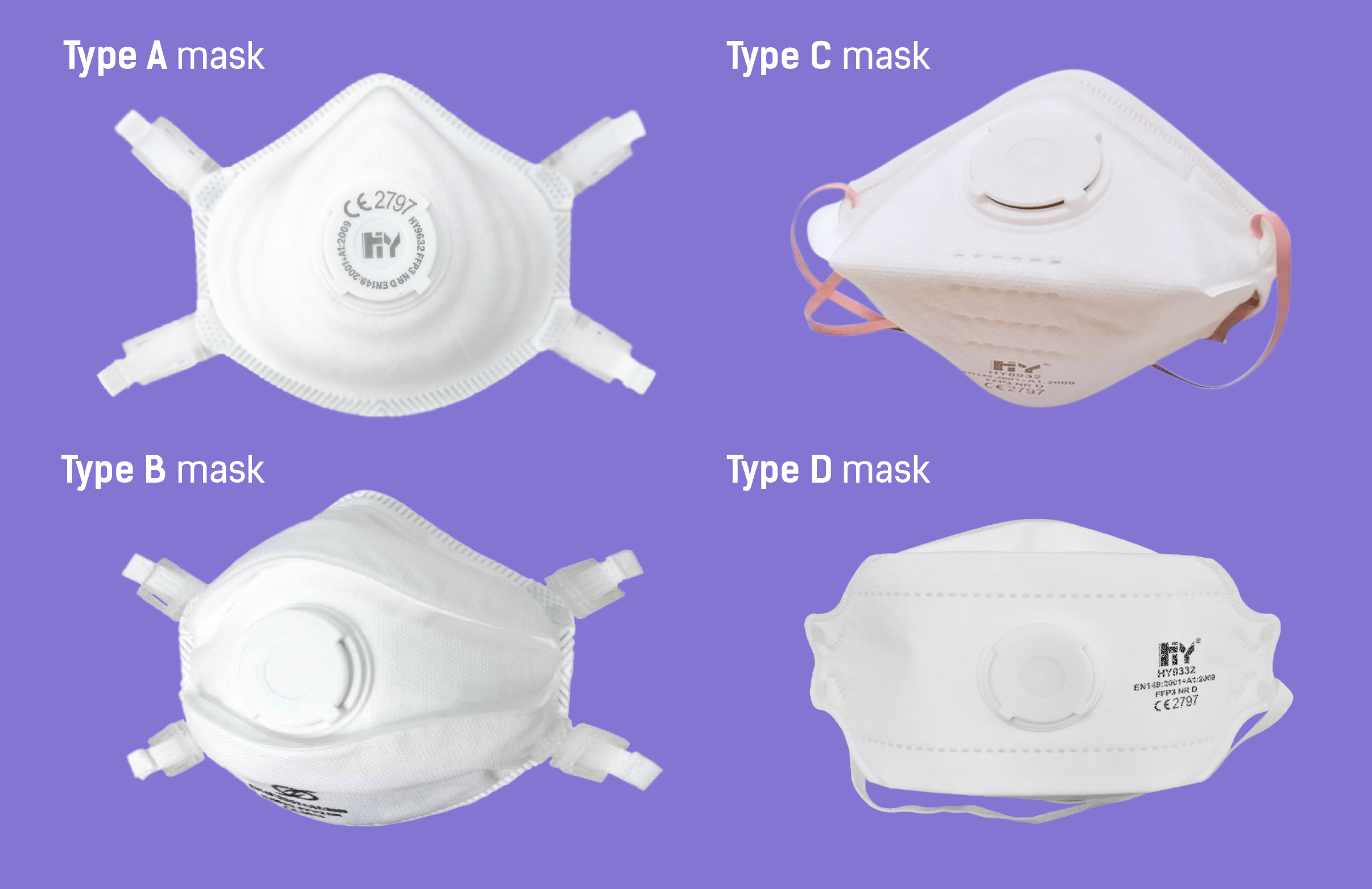 Ordering information
| PR CODE | PRODUCT NAME | INNER PACK | OUTER PACK |
| --- | --- | --- | --- |
| HY9632 | FFP3 Mask Type A | Box of 10 | Case of 200 |
| HY8632 | FFP3 Mask Type B | Box of 5 | Case of 100 |
| HY8932 | FFP3 Mask Type C | Box of 10 | Case of 200 |
| HY9332 | FFP3 Mask Type D | Box of 10 | Case of 200 |