As a gradual easing of lockdown is being introduced, it's now mandatory in certain situations to wear a face mask, to protect not only yourself but other people too.
In England, it's now mandatory to wear a face mask for the following (updated 22nd June 2020):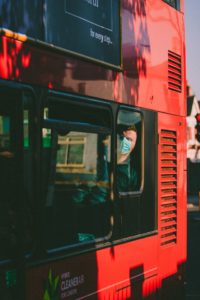 Using public transport
Being in close proximity to others in an enclosed space increases the risk of being exposed to the virus. Always wear your face mask when using public transport until the government confirms it's safe for you to stop doing so. Transport providers are within their rights to deny boarding to anyone not wearing a face mask. When using public transport, it's advisable you take some hand sanitiser with you to cleanse your hands when on the go and prevent spreading germs.
Visiting hospital or attending as an outpatient
It's important to take all necessary precautions when either visiting someone in hospital, or attending as an outpatient. You may be coming within close proximity of vulnerable individuals with already compromised immune systems. Not only this but you'll also be in close contact with healthcare workers. Help them to do their job in a way that's as safe as possible and limits unnecessary risk by wearing your face mask and regularly sanitising your hands.
If you have a new, continuous cough or any of the other symptoms of Covid-19, do not visit the hospital as planned. You must stay at home and isolate as per the recommendations. If you had an outpatient appointment, get in touch over email or telephone to let them know you won't be attending.
Government advice on when to wear a face mask
As lockdown is gradually eased, there may be more occasions when you have to wear a face mask to protect yourself and others. For guidance on when to wear a mask, please check government guidelines on Covid-19.
What type of face mask should I be wearing?
FFP3 face masks offer the highest levels of protection and usage of these masks should be reserved for healthcare workers supporting individuals in high-risk environments. For the general public, there's a whole array of other suitable face masks which can be considered. For those of you with good crafting skills, the government even provides advice on how to make your own face mask.
Buy face masks online
If you're not that way inclined with a sewing machine or simply don't have the time, Optimum Medical offers OptiPro Surgical Masks. These disposable, 3-ply face masks feature soft-touch fabric straps to reduce any discomfort behind your ears. To purchase, visit the OptiPro Surgical Masks page here and select 'Buy now'.