OptiLube, our sterile lubricating jelly, is created by formulation specialists in the UK to ensure effective lubrication across a wide range of clinical departments and procedures.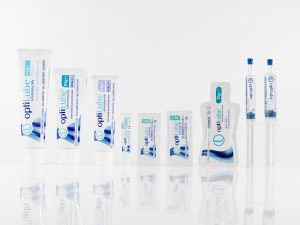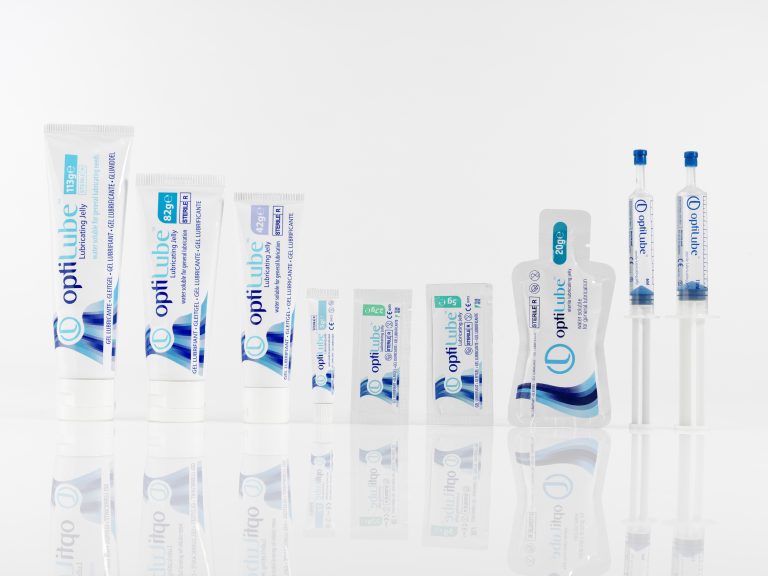 OptiLube is the market leader in the UK and used in over 60 countries around the world.
OptiLube Sachets
OptiLube is available in a 2.7g, 5g and 20g sachet. The easy-tear sachets help to reduce the spread of infection by preventing multiple patient use. The sachet format also helps reduce cost by minimising waste.
OptiLube sachets can be used across a wide range of procedures within many clinical departments where a water-soluble lubricating jelly is required to aid the insertion of instruments into the body.
OptiLube Tubes
OptiLube is available in a 5g, 42g, 82g and a 113g tube, giving the clinician the option to select the appropriate volume for the procedure being undertaken. The wide range of volumes ensures there is a size to suit most clinical procedures within many departments.
OptiLube 5g tube is also available double-wrapped, making it ideal for use when preparing a sterile field or in operating theatres and Intensive Care Units.
OptiLube Syringes
OptiLube is available in a 6ml and 11ml familiar syringe format, designed specifically for catheterisation. Our sterile, pre-filled 6ml OptiLube syringes are designed for lubricating a female urethra during catheterisation, while the 11ml syringe is specifically measured for male catheterisation procedures, easing the passage of the catheter into the urethra.
CLICK HERE – UK clinicians talk about how and why they use OptiLube sterile lubricating jelly in their practice.
If you would like any further information about our OptiLube range CLICK HERE or email marketing@optimummedical.co.uk to request a sample.