We're delighted to be able to offer you a choice of five variations of FFP3 face masks.
FFP3 face masks offer you, the wearer, the highest level of filtration protection against potentially harmful particles and dust.
A Filtering Face Piece (FFP) is classified depending on the filtration protection it provides. FFP3 face masks provide the highest level of respiratory protection within the category of disposable face masks. A well-fitting FFP3 face mask can protect you against fine toxic particulates, bacteria, viruses, and radioactive particles.
The filtration is provided by the mask material itself and the level of filtration protection is not affected by the addition of an exhalation valve. The exhalation valve is designed to offer the wearer additional comfort, by allowing their breath to leave the mask, reducing moisture and heat build-up inside the face mask.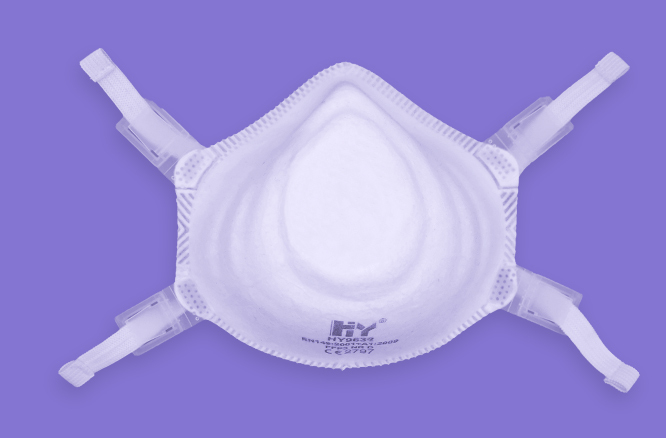 Our new non-valved FFP3 Face Mask
If you're required to wear a face mask as part of health and safety controls in your workplace, you must have your face mask FIT tested before use. People come in all shapes and sizes, and by offering five variations of FFP3 face masks, we ensure there is a face mask in our range that will offer you the level of protection you need to carry out your job safely.
Why choose our FFP3 Face Masks?
Our disposable FFP3 face masks are compliant with European guidelines EN 149:2001 and A1:2009.
We offer five variations of FFP3, four with exhalation valve and one without exhalation valve.
All our FFP3 face masks have cushion-fit lining for added wearer comfort.
Each one has a four-point headband attachment for extra security and less risk of slipping when in use, reducing the need for you to touch your face mask when wearing it.
Let's take a look at the range
Our non-valved FFP3 face mask has a moulded-cup shape respirator and a strong and rigid outer shell.
Our valved FFP3 face masks come in four variations.
Type A has a moulded cup, with an exhalation valve and a strong and rigid outer shell.
Type B has a contoured mask, with an exhalation valve, moulded nose bridge and dual welded head straps.
Type C has a horizontal folding shape, with an exhalation valve, invisible nose bridge and wider field of view.
Type D has a classic folding and cup-shaped face mask, with an exhalation valve, and a lightweight design.
For more information our range of FFP3 face mask, visit our product page here.
If you need advice or guidance on any of our personal protective equipment (PPE), please do not hesitate to get in touch. Our friendly customer care team would be happy to help you select the right items of PPE for you or your employees.
MAKE AN ENQUIRY