How to wash your hands! In the current situation with coronavirus (Covid-19) and now back into flu season, it is important to keep hands clean. For those who are not familiar with the 12 steps to follow when hand washing, this article will take you back to basics!
Always keep in mind that even if hands look clean, they can still carry harmful bacteria. Washing your hands is one of the most effective ways to protect yourself and others from getting sick and spreading germs.
It's important to know how often you should be washing your hands and when. You should always wash your hands with soap and water:
• Before you leave the house (to protect others from any bacteria you're carrying).
• When you arrive at your destination (to get rid of harmful bacteria you may have picked up from public transportation, etc.)
• Before and after you eat or prepare food.
• Before and after you clean your home.
• After you blow your nose, cough or sneeze.
• Before and after cleaning cuts or wounds.
• After you use the toilet.
• After you feed or touch a pet.
According to the World Health Organisation (WHO), the correct way to wash your hands is shown the 12 steps below.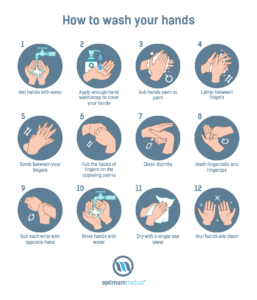 Whilst proper hand washing is the best practice method for removing dirt and bacteria, it is not always practical. Often hand sanitisers can be found in pocket-sized bottles for an easy to carry on-the-go solution which is just as effective for killing bacteria and most viruses.
When selecting an appropriate hand sanitiser, you should always choose one that is alcohol-based and with at least 60% alcohol. Similar rules apply when using hand sanitiser as an alternative to soap and water, you should continue rub your hands the same way you would when hand washing with soap and water following steps 3-10 above. Be sure to use enough liquid so you can reach every surface of your hands. Finally, do not wet your hands or wash the hand sanitiser off, allow the liquid to air dry (this usually takes 10-20 seconds).
Browse our Infection Control range
In addition to our OptiPro Hand Sanitiser, Optimum Medical provides a wide range of high-quality Infection Control products including gloves, face shields and a range of high-quality masks. Find out more here.