"How do I attach a catheter leg bag?"
As urology specialists, we want to put our knowledge and expertise to good use by answering your urology-related questions. One of the most common questions online related to catheters and leg bags is "how do I attach a catheter leg bag?".
Your healthcare professional is there to answer any questions you may have about your catheter and leg bag. Please seek guidance immediately from your healthcare professional if you have any concerns about your catheter or leg bag or you are feeling unwell.
Step-by-step guidance:
Wash and dry your hands (if a carer is changing the leg bag for you they must apply a clean pair of gloves after drying their hands).
Remove your velcro catheter leg bag straps or any other fixation devices which are supporting your Ugo Leg Bag to your leg.
Open the pouch packaging for a new Ugo Leg Bag and remove the protective cap from the leg bag stepped connector.
Detach the old leg bag from the catheter and immediately insert the stepped connector from the new leg bag ensuring an adequate seal (the leg bag is supplied in the closed position).
The discarded protective cap from the new Ugo Leg Bag can be attached to the stepped connector of the old leg bag prior to disposal to prevent leakage of any urine remaining in the tube.
Apply your catheter leg bag straps and/or other support devices and adjust to ensure optimum drainage and comfort.
Empty the urine from your old leg bag into the toilet and dispose of the bag as recommended by your nurse.
Wash and dry your hands.
By following the above steps, you are now able to use the best-practice method to attach a catheter leg bag. By following this guidance each time you change your catheter bag, you can help to reduce your risk of infection.
Want more information?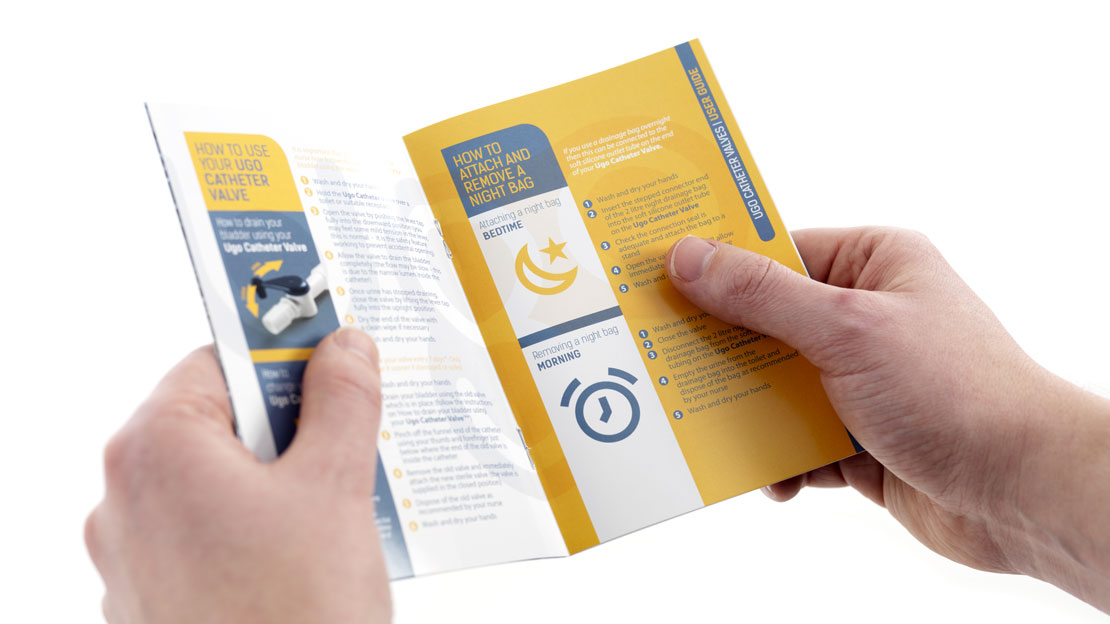 To find out more about the Ugo Leg Bags and Ugo 2L Drainage Bags, see our helpful User Guide.
If you'd like to receive free samples of each of these products (and many more), please complete the short form below: