Our ACA success in Belfast
In May, we attended the ACA Annual Conference and Exhibition in Belfast. The event started with a very interesting symposia presentation, delivered by Cath Williams – Locality Lead at North Somerset Community Partnership. Cath's presentation was titled 'Making a choice of catheterisation gel and the role of Chlorhexidine – reducing risk and enhancing patient-centred care'.
Following Cath's presentation, we met large numbers of clinicians on our stand – all keen to learn more about the latest addition to our catheterisation jelly range – OptiLube Active CHG Free (with Lidocaine 2%). Our range also includes OptiLube Active (with Lidocaine 2% and Chlorhexidine Gluconate 0.05%) and OptiLube (without active ingredients). By providing these different options, we give clinicians a choice of which gel to use on their patients – supporting them in practicing patient-centered care. Each of our catheterisation jelly syringes are available in a sterile, single-use syringe format and come in 6ml and 11ml sizes. Find out more by clicking here.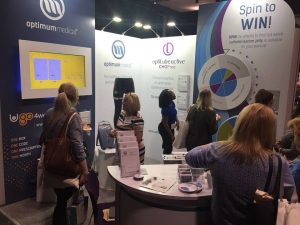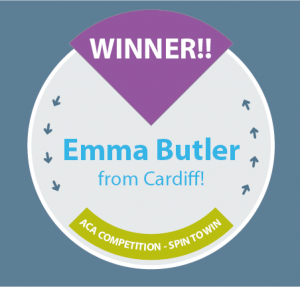 Spin to Win!
We had plenty of clinicians gathering around our stand to take part in our 'Spin to Win' game. By spinning each of our wheels, clinicians had to match the catheterisation gel in our range with the type of patient this gel could be used on. By making a match, clinicians were entered into our prize draw with a top prize of winning a NutriBullet. We're happy to announce our winner was Emma Butler from Cardiff. Congratulations Emma – your NutriBullet is on its way to you!
New Urology and Catheter product videos
If you attended the ACA, you may have seen our brand new product videos playing on our stand. If you didn't attend the event – don't worry! You can view all of our videos here on our YouTube channel. We hope you like them!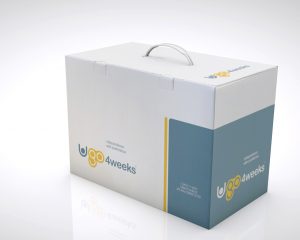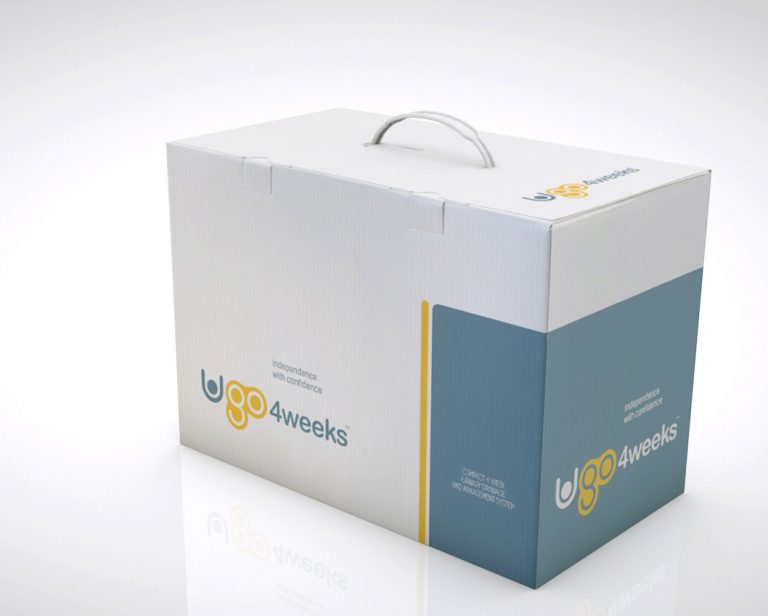 A big focus on the Optimum Medical stand at the ACA was the newest addition to our Ugo Urology range – Ugo 4 Weeks. At Optimum Medical, we develop all of our products with patients and clinicians in mind. With Ugo 4 Weeks, we saw an opportunity to improve the lives of patients living with an indwelling catheter.
Ugo 4 Weeks provides a 4 week supply of essential catheter drainage and fixation products, all contained in a compact, discreet storage box.
Each box contains the following products:
· 4 x fabric-backed Ugo Leg Bags
· 28 x Ugo 10 2L Bags with single use T tap
· 1 x Ugo Hanger
· 4 x pairs of Ugo Fix Leg Bag Straps
· 4 x Ugo Fix Gentle (catheter clips)
· Patient and Carer User Guides
By containing all of the above products, the Ugo 4 Weeks provides a convenient and practical solution, designed to prevent patients in the community running out of catheter drainage and fixation supplies. This is achieved by enhancing stock management – making it easy for clinicians to judge when the next order needs to be placed; therefore providing a consistent, reliable supply of products. This gives both patients and clinicians peace of mind.
Giving patients and clinicians a choice
We understand that increasing numbers of patients are being selective about which products they use and they want to have access to a choice. This is why we provide the Ugo 4 Weeks in 4 different formats, so the patient can choose exactly which type of leg bag they'd like to have included in their Ugo 4 Weeks box. Find out more about the variations available in our Ugo Leg Bags by clicking here.
Comprehensive patient and carer user guides
Each Ugo 4 Weeks box contains comprehensive patient and carer user guides, designed to serve as a handy point of reference and give that extra support and reassurance between nurse visits. Martin Otter, a carer from Devon, recently received a Ugo Urology product sample box and found our patient and carer user guides to be very helpful. Martin said "The leaflets were extremely useful to me as a carer. This is the first experience we've had with catheters. Your products and user guides will allow us so much more freedom. As a carer, one of the biggest obstacles I face is boosting my partner's confidence. The products in the Ugo Urology range have taken so much pressure off. They actually work!"
All products available through Vyne
Ugo 4 Weeks and our catheterisation jelly range is widely available on prescription and can be accessed through our new home delivery service – Vyne. Find out more by visiting www.myvyne.co.uk. Alternatively, you can call 0344 225 1518 or email hello@myvyne.co.uk and we'll gladly tell you more about the service!