Powder-Free Nitrile Gloves
Our Powder-Free Nitrile Gloves are manufactured from high-quality synthetic rubber, which means there is no risk to users with latex allergies.
Powder-free nitrile gloves are the gold standard within the medical or manufacturing industry as they reduce contamination and will not leave any messy residue on hands or equipment. The powder-free design is also suitable for use over long periods of time and better suited to users with sensitive skin.
Our Powder-Free Nitrile Gloves are available in a range of sizes, ensuring a snug fit which does not compromise user dexterity, making these an ideal choice for complex and precise applications. All our gloves offer basic protection from microbes and dangerous substances. 
Key Features
Adheres to EN 455

Latex-free

Ambidextrous

Single use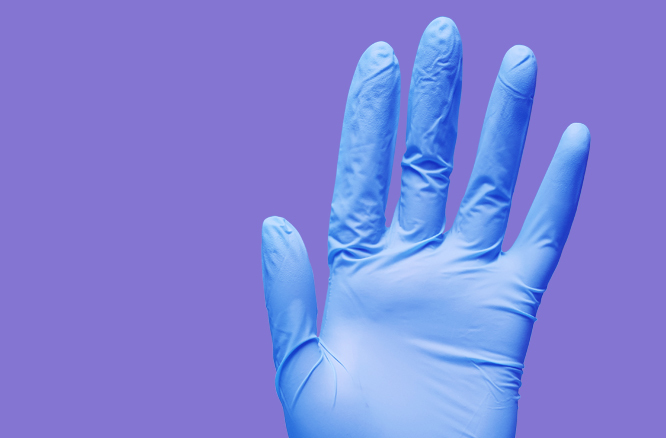 Ordering information
| PR CODE | SIZE | THICKNESS | COLOUR | INNER BOX | OUTER BOX |
| --- | --- | --- | --- | --- | --- |
| 32ABS | S | 3.2gm | Blue | 100 ambidextrous gloves | Case of 1000 |
| 32ABM | M | 3.2gm | Blue | 100 ambidextrous gloves | Case of 1000 |
| 32ABL | L | 3.2gm | Blue | 100 ambidextrous gloves | Case of 1000 |
| 32ABXL | XL | 3.2gm | Blue | 100 ambidextrous gloves | Case of 1000 |
| 34CFS | S | 3.4gm | Blue | 100 ambidextrous gloves | Case of 1000 |
| 34CFM | M | 3.4gm | Blue | 100 ambidextrous gloves | Case of 1000 |
| 34CFL | L | 3.4gm | Blue | 100 ambidextrous gloves | Case of 1000 |
| 34CFXL | XL | 3.4gm | Blue | 100 ambidextrous gloves | Case of 1000 |