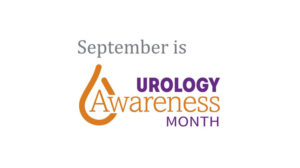 It's officially Urology Awareness Month 2019 – an initiative run by The Urology Foundation each September to raise awareness of urological conditions and raise money to contribute towards further research in this area. It's estimated that half of us will receive a diagnosis of a condition in our lifetime which affects our urological health. Therefore, it's important to be aware of the various symptoms which may present.
Spotlight on bladder cancer
There's a huge array of conditions which can affect the urinary system, but this Urology Awareness Month, we've decided to focus on bladder cancer. Just under 10,200 people develop bladder cancer in the UK every year. That equates to 28 people per day receiving a diagnosis.
Continue reading below to read about the symptoms associated with bladder cancer, the tests performed to aid diagnosis, treatment and support which is available.
Bladder cancer symptoms
According to the NHS, blood in the urine (haematuria) is the most common symptom of bladder cancer. This tends not to present with any associated pain.
Other symptoms of bladder cancer include:
– The need to pass urine frequently (polyuria)
– Suddenly feeling the urge to urinate
– Feeling a burning sensation when urinating
Diagnosis of bladder cancer
Tests performed can include the following:
– Urine sampling (urinalysis)
– Cystoscopy (a test using a cystoscope to examine the inside of the bladder)
– Abdominal ultrasound (to observe the bladder, kidneys, ureter and urethra)
– CT urogram (to observe a 3D image of the urinary system)
– Intravenous urogram (IVU) or intravenous pyelogram (IVP) – (a radiological procedure which uses contrast medium to observe the key features of the urinary system)
– Blood tests (to check kidney function)
The above list has been compiled using information provided by Cancer Research UK and the NHS.
Bladder cancer treatment
This will vary for each individual, depending on a variety of factors including the type of cancer, stage, grade and size. More information can be found on the Cancer Research UK website. Anyone with questions or concerns regarding treatment should discuss this with the healthcare professional in charge of their care, who will be able to provide them with an individualised response.
Bladder cancer support
The charity Fight Bladder Cancer offers some helpful resources for anyone affected by bladder cancer. Their website features a confidential forum and a 'Bladder Buddy' service, where you can be paired up with someone who has previously been in a similar situation to yourself. They also have a few local support groups across the country. In addition to this, the 'Downloads' page of their website is a rich source of information, covering everything from how to tell people about your diagnosis, to preparing for meetings with your consultant.
Living with bladder cancer and using a catheter
Some individuals with bladder cancer may require catheterisation, particularly if the cancer is preventing urine from draining from the bladder as it should. Obstructions in the urinary tract can lead to hydronephrosis – where the urine backtracks up the urinary system into the kidneys and causes them to become swollen. The insertion of a urinary catheter can drain urine away from the kidneys to prevent further damage.
For individuals using indwelling urethral catheters, Optimum Medical's Ugo Urology range offers a choice of catheter drainage and fixation devices. To receive your free sample box containing one of each product in the Ugo Urology range, please complete the short form below.