Over the past couple of days, we've been exhibiting at ACA (Association for Continence Advice) Annual Conference and Exhibition 2019. We had a fantastic time at the show and loved speaking with clinicians on our stand, telling them all about the choices available in our catheterisation jelly range. In particular, we received a lot of interest in the newest gel to join our range – OptiLube Active CHG Free (with Lidocaine 2%). OptiLube Active CHG Free was also referenced in the first presentation of the conference, titled: The perfect match! Identifying the right catheterisation jelly for your patient. This was delivered by Sharon Holroyd – Lead CNS, Halifax, and had a great turnout.
OptiLube Active CHG Free joins OptiLube Active with Lidocaine 2%, and Chlorhexidine Gluconate 0.25% (20% concentrate solution) and OptiLube without active ingredients. All of our catheterisation gels are available in 6ml and 11ml volumes and are designed to coat the full length of the urethra in lubricant, helping to increase patient comfort during catheterisation.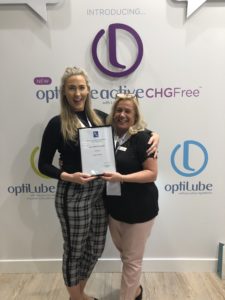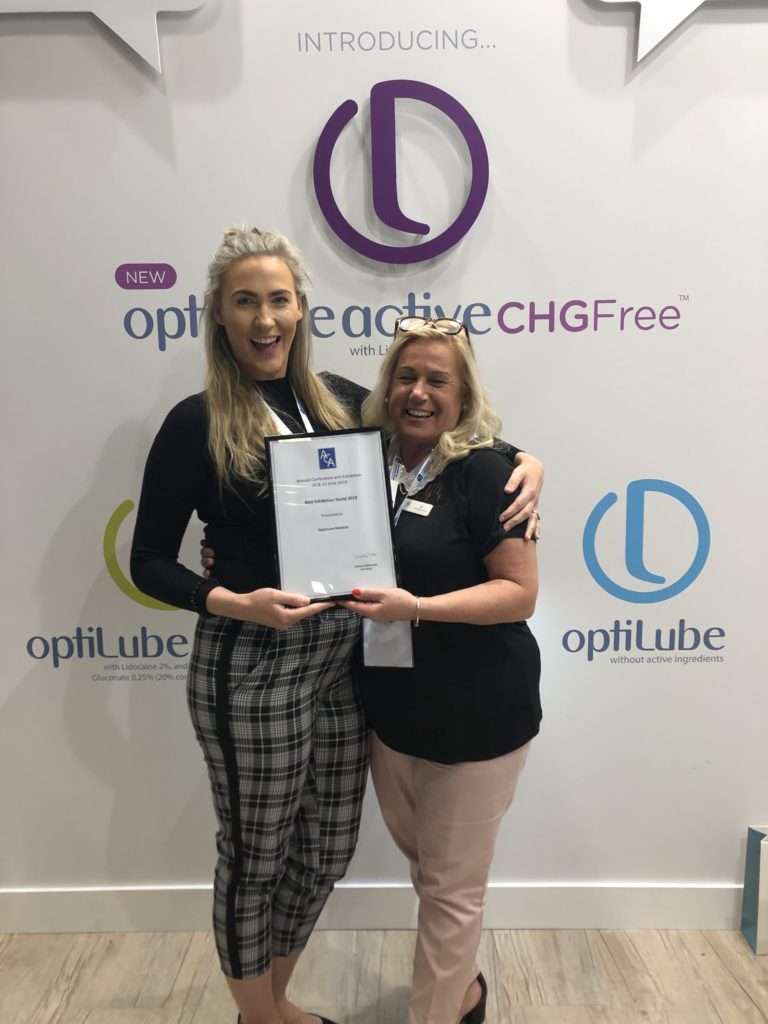 At the end of the ACA conference, we were presented with the Best Exhibition Stand 2019 award! This was awarded by Patricia McDermott – ACA Chair, and as you can see on the left, very happily accepted by Gill Fairless (National Care Homes Manager and Northern Sales UK) and Charlotte Buckingham (Southern Sales Manager).
If you missed us at ACA this year but would still be interested in finding out more about our catheterisation jelly range, please email enquiries@optimummedical.co.uk